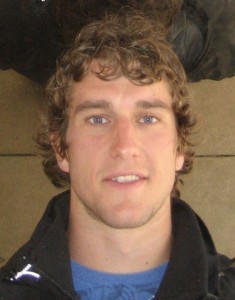 Dr. Jarod Selby
B.Kin, DC, Acupuncturist, ART® Provider
"As a former athlete and chiropractor, I know how important my well being is to living an active, fulfilling life. As a person who enjoys being active, I know that even minor injuries and discomforts can put a serious dent in the quality of my day and in my outlook, not to mention my performance on the field and in the office. Whether you're being held back by overuse injuries, degenerative changes, sprains or strains… please call me to discuss treatment options and start on the road to recovery."
Dr. Jarod Selby was born and raised in Lindsay, Ontario. He earned an Honours (With First Class Standing) Bachelor of Kinesiology from Brock University in 2007. While at Brock, he was a Varsity Men's Rugby player for four years. He also completed his research honours thesis in the area of Biomechanics.
Dr. Selby graduated cum laude from Palmer College of Chiropractic in Davenport, Iowa with his Doctor of Chiropractic degree in 2012. Dr. Selby was recruited to Palmer on a rugby scholarship and throughout his Doctoral degree he maintained honour status academically as well as serving as Coach, President, Team therapist and Player of the Palmer Dragons Rugby Football Club. Dr. Selby was on two Final Four appearances in 2010 and 2011 leading the Dragons to a 4th and 3rd place finish in the Nation respectfully.
While at Palmer Dr. Selby was a Sport Injury and Rehabilitation Intern and devoted his studies to Sport Injury, Rehabilitation, soft tissue dysfunction and correcting movement and motion disorders. Dr. Selby was nominated for the Clinical Excellence Award for his class of 2012.
Dr. Selby has worked with a wide range of athletic talents and abilities from the amateur to the professional and enjoys the challenge that comes with the various aspects of sport and its injuries. He also has a passion for treating the general population and any individual who is impeded from their normal lifestyle due to injury, dysfunction and pain. He empathetically understands the mental, emotional, and physical impact that injury has on the patient's daily life, sport, or work and is committed to getting his patients back onto their playing field whatever it may be.
Dr. Selby's belief is that optimal health and performance is achieved through the proper balance of exercise, nutrition and maintenance of the body's musculoskeletal system.
Rehabilitation and Sport Injury Services

Certified Active Release Technique Provider
Certified Functional Range Release Provider
Certified Graston Technique Provider
Acupuncture Provider

Certified Spider-Tech Kinesio Tape Provider
Dr. Selby was a former National Rugby Player competing for Canada on the National Senior Men's 7's Team (2008), National Senior Men's 15's Program (2007), North America 4 (2005-2007), Canada U-21 Team (2005-2006), Canada U-19 Team (2004).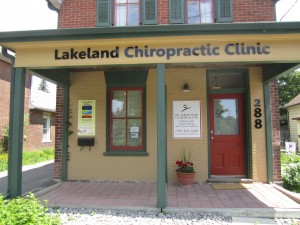 Lakeland Chiropractic Clinic
288 Park Street North, Peterborough, Ontario K9J 3W5. Lakeland Chiropractic Clinic was established in 2012. It is a Chiropractic, Sport Injury, and Health and Wellness Clinic located in Peterborough, Ontario, conveniently close to downtown at 288 Park Street North. Located South of Charlotte Street and Just North of King Street, it is on the East side of the Street.
VISION
Lakeland Chiropractic's vision evolved out of a lifelong passion to provide the most cost and time effective treatment to help patients return to optimal function. This vision is nurtured through integrity, passion, skill, experience and an unchallenged focus on results. The vision was sought out by Peterborough due to a need for quality care in sport injury, musculoskeletal dysfunction and rehabilitation in a very outdoor, green and active community demanding reliable professional help.
SERVICES
The services we offer include: Chiropractic, Active Release Technique (ART), Functional Range Release (FR), Contemporary Acupuncture, Graston Technique, Kinesiotaping, PNF Stretching, Soft Tissue Treatment and Rehabilitative Exercises.
MISSION
At Lakeland Chiropractic Clinic our mission is to provide the highest quality of healthcare to our patients by implementing accessible, safe and affordable care with a simple motive of improving the quality and function of our patient's lives. We are further committed to a patient centered approach that allows us to achieve specificity of results that are both time and cost effective.